OUR SMALL HILL FARMING VILLAGE is embarked upon an ambitious approach to rural regeneration which involves coordinated action on a wide range of fronts. Briefly, we are trying to build a sustainable future for our community based on the recognition that environment, social and economic life are interdependent. Our thriving social life was threatened by economic and environmental decline. The catalyst for change, in 1994, was the community purchase, refurbishment and running of our large former village shop site, long river frontage, three cottages, filling station and post office. Since then we have gone on to:
Organize a Village Appraisal, and Action Planning sessions, so everyone can have a voice in planning the future.
Set up a Local Enterprise Management Committee with representatives from all formal village groups including the Young Farmersí Club (representatives as young as 14).
Appoint the first-ever Village Manager (a post now divided among four local people).
Set up a Telecentre/Resource Centre and Homework Club.
Provide telework for local people and become an on-line Job Centre.
Provide IT training for local people.
Create one fulltime and seven part-time jobs - so far (lamb marketing should create 15 more).
Evolve our own logo (see above) and PR practice.
Appoint a Team of local people paid to manage development.

The Community Telecentre

The Village Pump
Develop the community-owned riverside site, with picnic tables and plans for a small nature reserve.
Clear and maintain voluntarily our own community sites - young and old involved.
Appoint a full-time paid shop manager - but volunteers are still vitally involved.
Plan a radical new kind of community centre to replace the old village hall -
which has now won substantial European, Powys Council and Lottery funding; building will start in 1999.
Issue an 8-page monthly Newsletter free to every local household.
Set up a non-profit community provident society - the Shop Association, with 50 members.
Register a community charity with three local Trustees.
Raise over £700,000 - including over £10,000 from within the 300-strong community.
Plant trees and bulbs the length of the village; install a public disabled toilet.
Be widely recognized as a flagship of rural regeneration - e.g. in the Government White Paper on Rural Wales, in many press and TV reports, community development conferences etc.
Be finalists in the Prince of Wales Awards and win the 1998-9 UK Village of the Year award.
---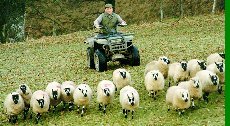 MOST IMPORTANT is our latest scheme to market our sweet, naturally hill-reared local lamb direct to consumers. This gives better returns to our farmers, easing pressure on the land, keeping small farms - and the community - alive. Profits go back into the community. In June 1999 the scheme went UK-wide, with phone and on-line ordering of beautifully jointed and boxed half lambs delivered by courier. Teleselling of lamb provides new jobs for local people. Lamb hot line: 01597 840444
On-line ordering and web presentation: Click on green navigation button on left.
---